Its been a bit of a journey with the whole Frida thing to say the least. If Im being honest its had its up and downs, roundabouts, joy, love, lots of emotion, frustration of trying to make things work, self doubt, seeking approval, over complicating things and going all the way round and starting again at the beginning.
I listened to Frida documentaries on repeat, getting my initial drawings together, fell in love with her powerful expression and became obsessed. It was hard to get into the rhythm of using paints, pencils, fine line pens in place of my sewing machine. I knew I could indulge in the meditative qualities of my machine later, for the beginning it was a struggle. I concentrated on the feel of the neo colour on the texture of the paper, the pencils drove their way through and the paint found its way.
I came up with three Frida designs- Frida Red, Frida Gold and Frida Antlers. Playing around with the background on Frida Antlers I scanned in some silk and some lace and fiddled with the filters. The other two appeared finished as they were.
So now I had to work out what I was going to do with these images and how was I to transfer my idea to fabric making art to wear. This was all a bit of a head fuck. I feel blessed to have ideas and the chance to make something evolve, its just, the how can sometimes feel challenging.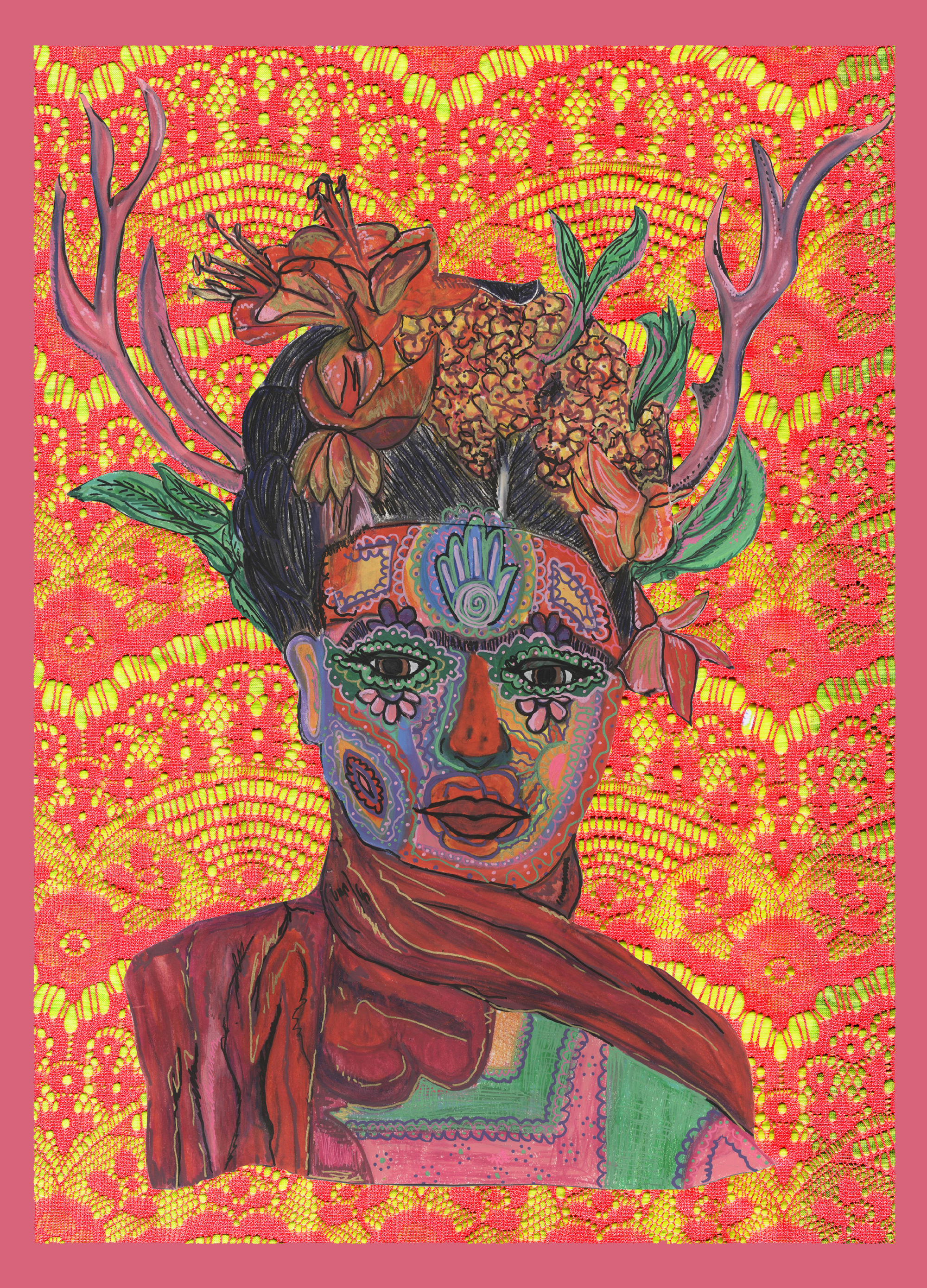 In addition there was my t shirt design for the colourwalk at Old Spitalfields Market in London as part of Mei Hui's Silk Series to sort out. I had 'Frida Antlers' printed onto bamboo fabric to start the process of recreating what I had drawn and painted. My first thoughts were.... it has to be as close to ethical, sustainable fashion, as humanly possible, right here and right now. I could get this sorted in time, by printing my 'Frida Antlers' design onto bamboo cloth from Fashion Formula and sew it onto second hand white cotton jersey. At the least it was bamboo fabric and the second hand cotton jersey had been given to me by a mate, so being upcycled. The process had begun.
Embellishing the print with stitch was back where I felt most comfortable. Conjuring up the patterns, sorting and sifting the colours - like alchemy, stirring the pot. The metallic threads are most indulgent, a fucker to sew with and too delicious to be missed. I wanted something entrinsic for the back of the t-shirt so I painted strong wings in fabric paint and stole Fridas quote... 'Feet what do I need you for when I have wings to fly.' Part of my moving foward. Elevating and learning to fly....
The Silk Series Summer festival Colourwalk was a delight. An array of enormously, exquisite, gorgeous, oozing, wonders of love and joy. Mei hui Lui set up the whole thing and Tim Yip was very much present filming and his crew were taking a multitude of pictures and Dan Harley was in full swing. Such an honour to meet Tim Yip one of my heroes - a true genius. Sue Kreitzman was back in colourful force and there was a fashion show from Anne Sophie Cochevolou, Victim, Phannatiq, Diane Goldie.
It was a raucous affair. I was thrilled to meet Ruthy Mandry of Slipped Haloes creator of seriously superfly headgear, Martine who is Pomegranate Arts craft workshops for kids, a great portrait artist too. It was great to reunite with Florent Bidois, Richard Kaby. Many of these wonderful photos were taken by Richard, Martine or myself. I would tag everybody, however I dont know the names of all the awesome models and people. Hopefully our paths will cross again. Uncle techno came to meet me and we ended up in the pub across the way. I can still feel the source energy from this day floating in my cells. Colour makes me happy.....Thats all for now folks heres to next time coming soon... My 'Everything Frida' capsule collection and Frida Kahlo Making Herself Up